No lottery that we know of gives you the ability to do what Avazoo offers. Avazoo raffle entry holders can earn additional free entries into the Billion Dollar Raffle! Let's tell you how.
Win a Billion Dollars? There's An App for That!
If you're going to try to win a billion dollars, you might as well have fun doing it! Avazoo's mobile phone app* gives you ways to earn additional free entries. We make it easy and fun to play. Here's how it works:
Once you've decided to enter the Billion Dollar Raffle, click the Enter the Raffle button.
You will then be taken to a form, where we will request ONLY your full name, email address, confirmation of that email address, confirmation that you are at least 18 years old, a mobile phone number, a second alternate phone number, and the country you are from.
Once you've submitted this information, you'll be taken to a 3rd party payment screen to select your entry level and purchase your raffle entry. We are sending you to a 3rd party to keep your information SEPARATE from your payment in order to protect your privacy.
Once you're an official raffle player, you'll be taken to a page inviting you how download the Avazoo app*. Trust us, YOU WILL WANT THIS APP!
You Will LOVE Our App!
With our FREE app, every entry holder will have multiple opportunities to earn additional FREE entries without having to spend another single penny. For example, the app might reward you with 5 free entries if you go to a specific business that happens to be one of our sponsors. Or perhaps you can earn 10 free entries if you perform a specific good deed. You'll have many opportunities like this by engaging in our free app daily.
BUT… for those of you who are VERY SERIOUS about winning and want even MORE free entries, you'll want to upgrade the app to the VIP enhanced version. This is totally optional, of course. You can still earn additional free entries through the basic version of the app. However, if you upgrade for a very small monthly subscription fee, we will open up MANY MORE OPPORTUNITIES to earn additional free entries, which can really boost your probability of winning a large cash prize.
What are you waiting for? The sooner you purchase your raffle entry and download the Avazoo app*, the sooner you can begin accumulating a large number of FREE ENTRIES to try and win the One Billion Dollar Grand Prize or one of many other valuable prizes!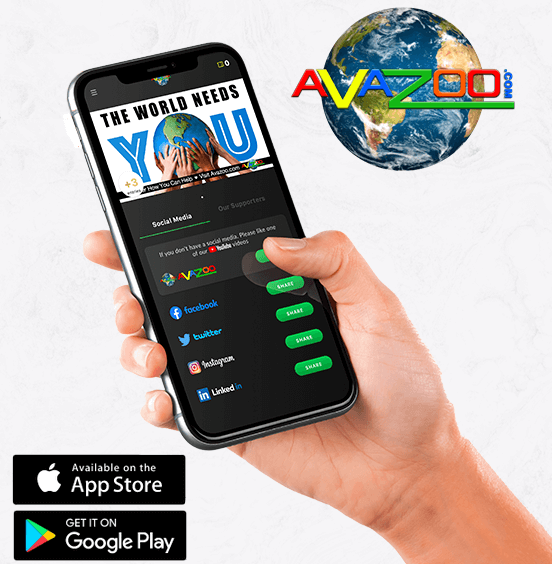 TOGETHER, LET'S MAKE A CHANGE!
Enter Avazoo's Billion Dollar Raffle now to help us raise billions of dollars over the next decade for charities and causes around the world.
Hurry! There are only 50,000,000 tickets available!