Avazoo's NFTs (Non-Fungible Tokens)
We are excited to offer our very own Avazoo NFT for purchase, which automatically enters you into the Billion Dollar Raffle! Your NFT is personalized with all the required information, and we also offer the ability to upgrade your NFT with your own customized photo image for a small additional fee.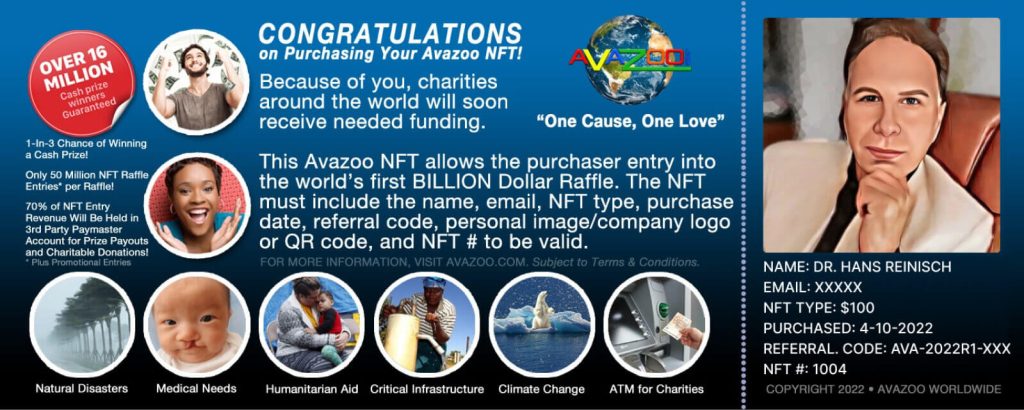 Avazoo has been well over a decade in the making and prides itself on being completely transparent with every aspect of the Billion Dollar Raffle. After careful consideration, the board and management of Avazoo made the decision to add the use of NFTs in conjunction with the blockchain network as a purchase option.
In order to exceed our goals of full transparency, we created our own public registry and gallery that displays every minted NFT raffle entry. Each customized NFT is automatically displayed in the Avazoo gallery. If an individual decides not to share their personalized NFT in our gallery, then the only information shared publicly on the Avazoo registry is their name, and the original blockchain transaction information.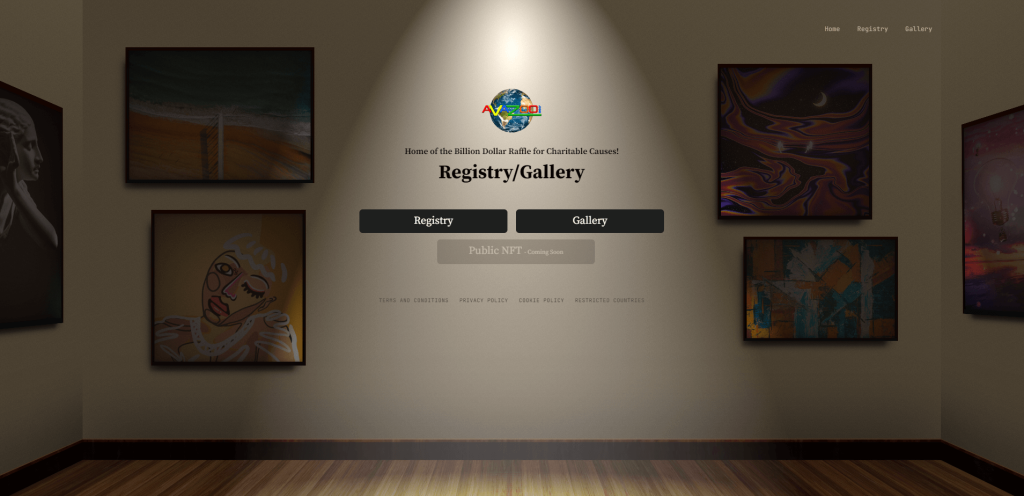 Under our joint venture licensing agreement based out of the Philippines, we offer the option to participate in the raffle in the form of digital online ticket sales, providing the laws within each person's jurisdiction legally allows them to participate and purchase raffle tickets. By offering two unique purchase options, our hope is that we can provide a means to include as many individuals as possible who want to participate in the raffle and help our great cause!
Scrutiny around Avazoo is to be expected due to the incredible amount of funds being raised by the raffle. That is why Avazoo strives to be as transparent as possible to all local and worldwide news outlets, agencies, organizations, and governments who may question the company's motives. We encourage anyone with questions about Avazoo to contact us directly at: [email protected].
We urge you to do your own research about NFTs if you are unfamiliar with how potentially valuable and collectable they can be. Due to that fact, we highly encourage you to personalize your Avazoo NFT with a photo of yourself. We anticipate that a large number of Avazoo NFTs may become extremely valuable once the first raffle is completed, especially the first ever Billion Dollar Raffle grand prize winner's personal NFT!
TOGETHER, LET'S MAKE A CHANGE!
Enter Avazoo's Billion Dollar Raffle now to help us raise billions of dollars over the next decade for charities and causes around the world.
Hurry! There are only 50,000,000 tickets available!