Avazoo Chairman Dr. Hans Reinisch with his friends
Home Of The Billion Dollar Raffle
The World's Greatest Fundraiser for Charitable Causes
First Prize: One Winner! One Check! $1 Billion Dollars (US$1,000,000,000)
Second Prize: 100 Individuals Will Receive $1 Million Dollars (US$1,000,000)
"The bad news is time flies. The good news is you're the pilot."
Michael Altshuler
It Must Be Your Lucky Day That Brought You Here!!
Welcome to the most AMAZING "Philanthropic Event" of this century, or probably even of ALL time! Definitely the greatest "Game Changer" the world has ever seen. The Avazoo Worldwide Billion Dollar Raffle offers a true opportunity to become a Billionaire while raising money for Humanitarian Causes around the globe!
Avazoo's 1st Objective is to change the way people think about Philanthropy through our unique methodology of raising funds to become the First ATM in the world for charitable causes!

Your Objective is our 2nd Objective, which is is to make 1 Lucky person, possibly you, a Billionaire and over 16 Million Cash Prize Winners,
BUT the 2nd can not happen without the first.
Would You Invest $20, $50, Or Even $100 To Win
US$1 Billion Dollars?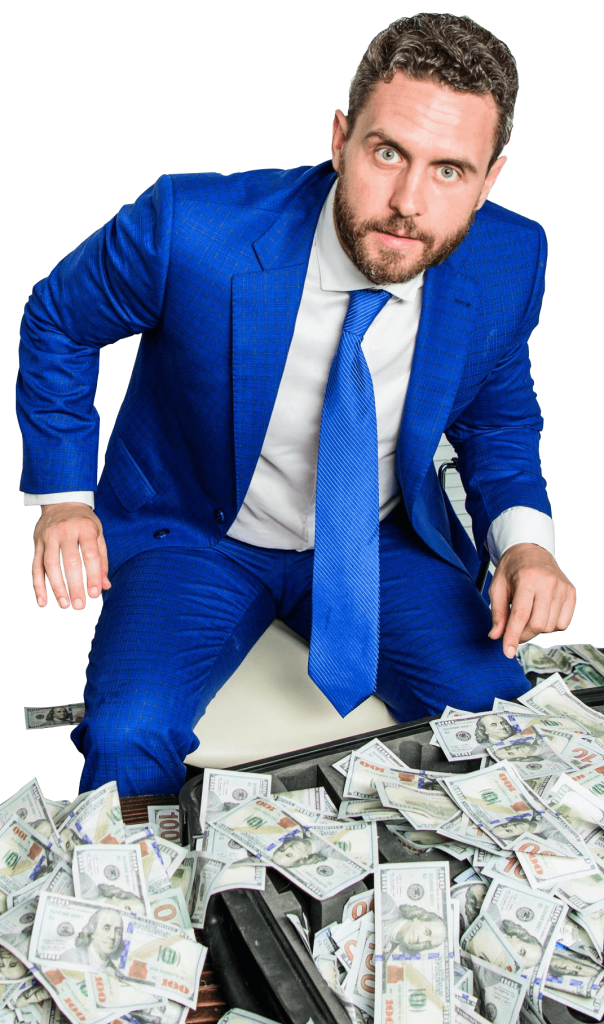 That's ONE guaranteed winner, ONE check, ONE BILLION DOLLARS because Avazoo is NOT a lottery, it's a Raffle!
What If You Only Win A Second Place Prize?
The Avazoo Worldwide Billion Dollar Raffle has 100 second place prizes worth an ASTOUNDING, never seen or done before,
US$1 MILLION DOLLARS!

That's 100 incredibly lucky NEW MILLIONAIRES!

We offer two different opportunities, a conventional raffle ticket or upgrade to a Non-Fungible Token "NFT"! Both are at the same 5 different Entry Level price points to fit most budgets. Watch this video to understand what each level offers, and which ones include monthly Bonus Prizes, then choose your level wisely!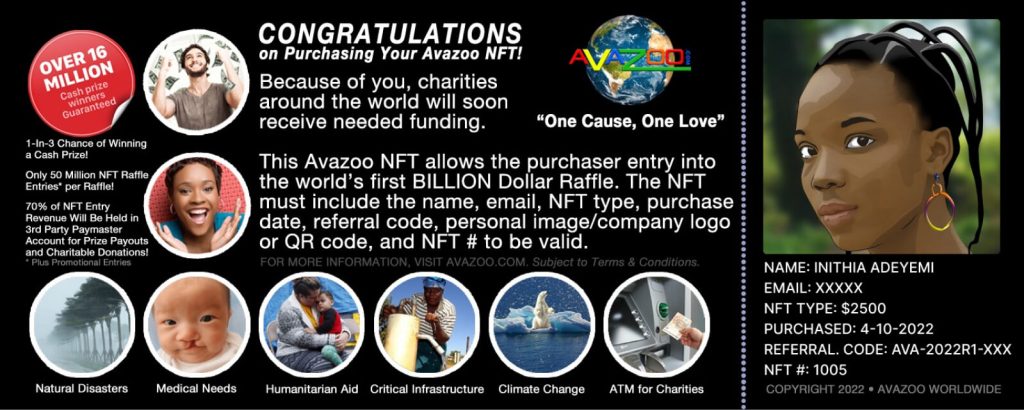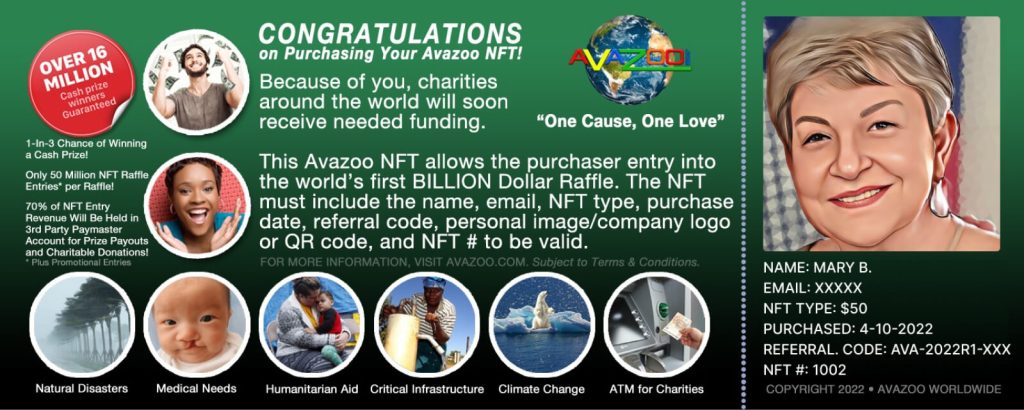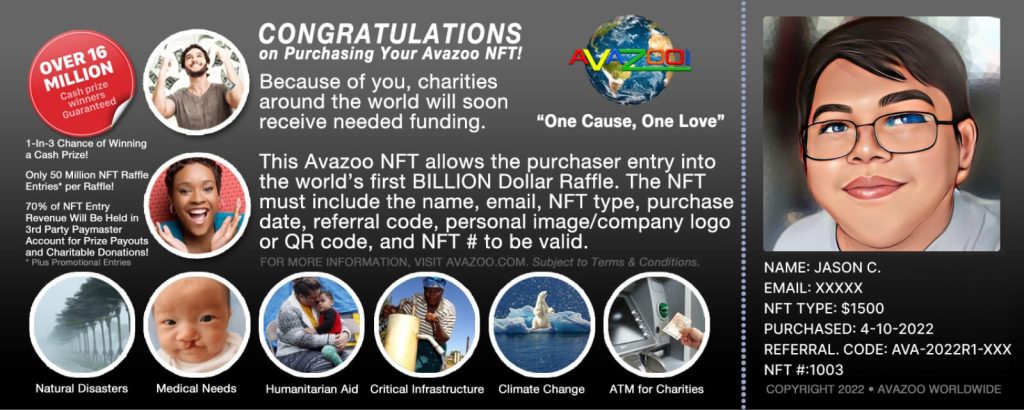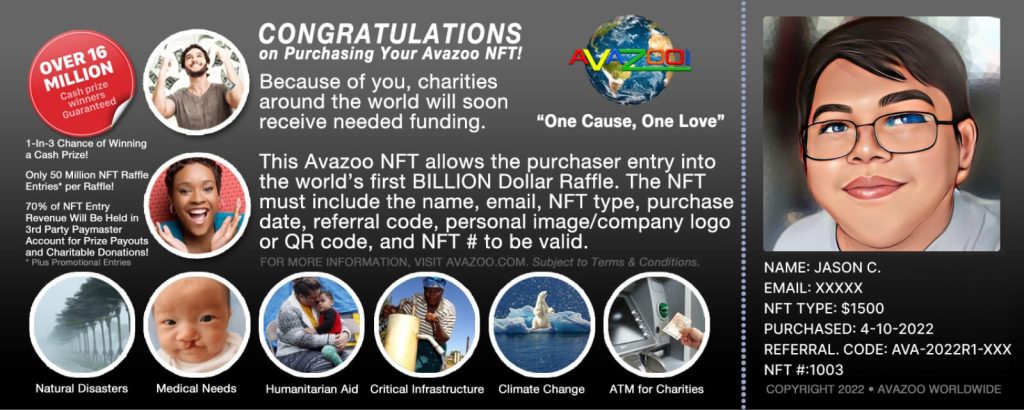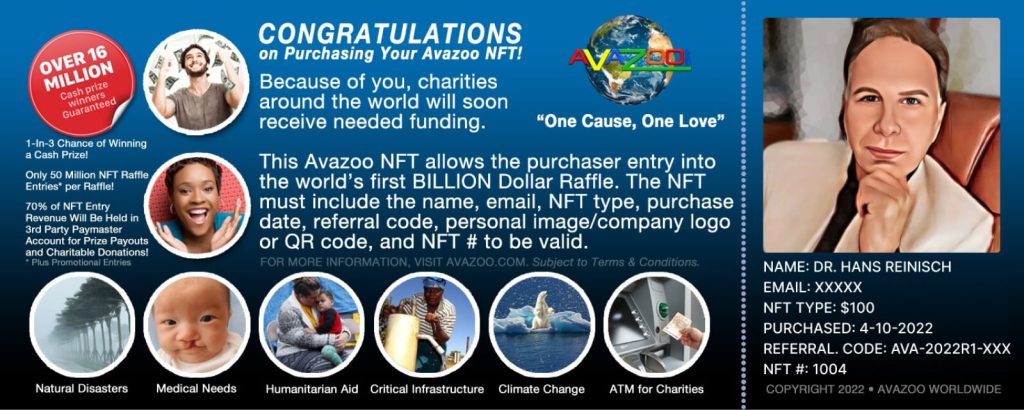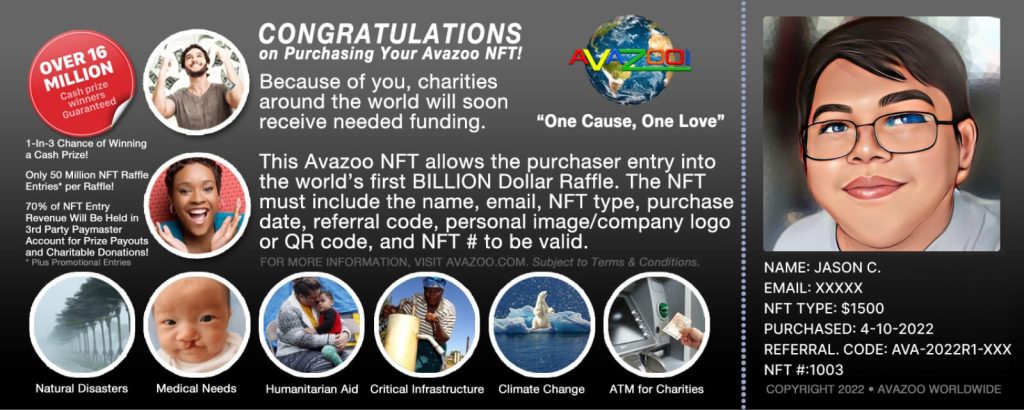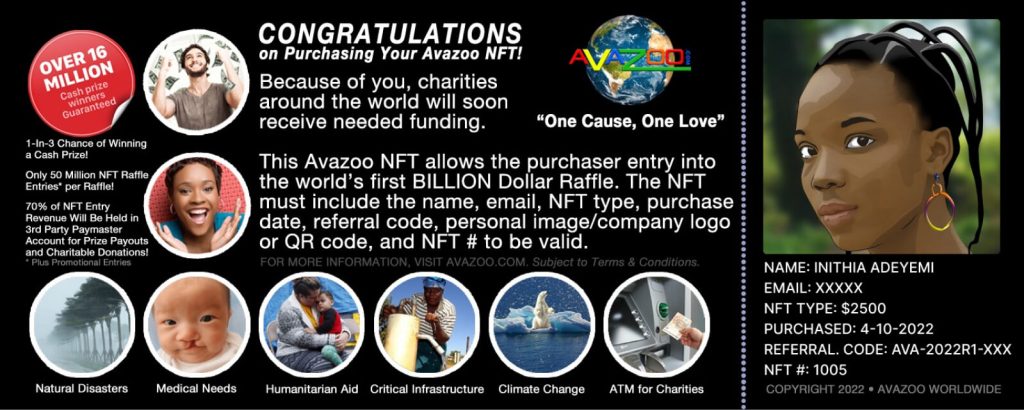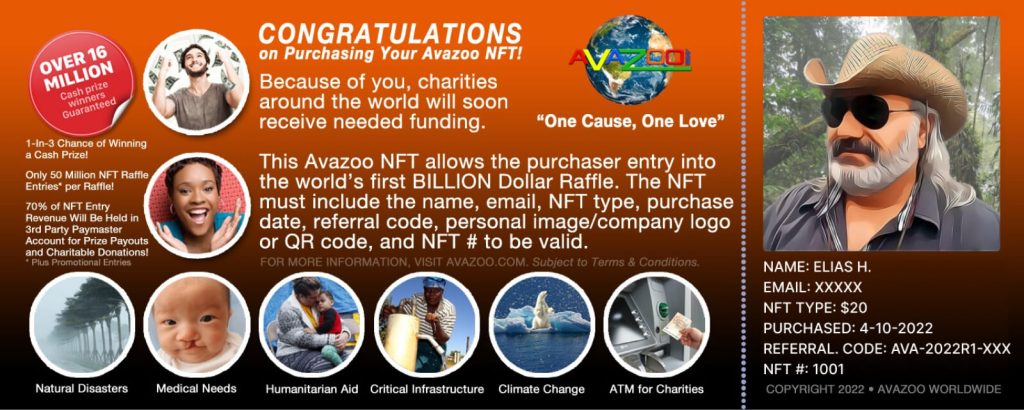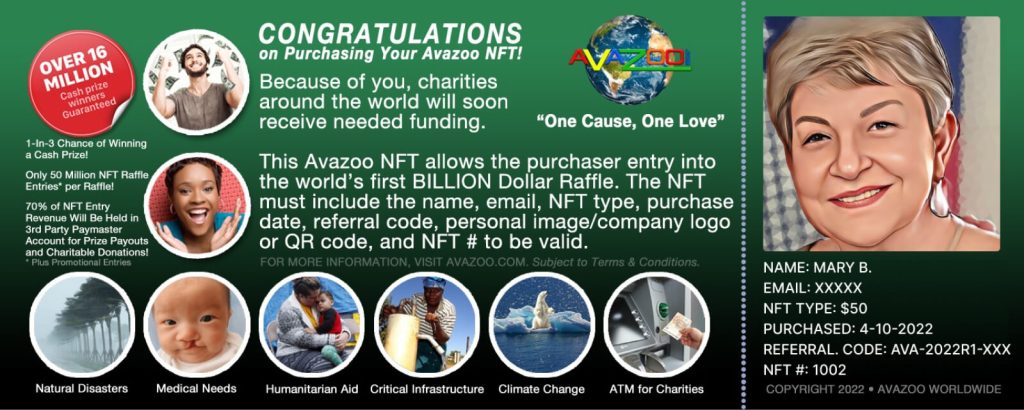 Do You Have An NFT In Your FUTURE?
"NFT" Non-Fungible Token!
Avazoo is offering you an AMAZING opportunity to purchase a unique NFT and at the same time you are rewarded with a FREE Billion Dollar Raffle Entry of the SAME VALUE! You also have the option to personalize your NFT, and then view it in our beautiful gallery/registry along with the rest of the world to see!
If you are a winner in the world's First Billion Dollar Raffle your NFT may be very valuable as a Collectors Item.
We LOVE the direction the NFT world is trending! Have you heard that one of the most expensive NFTs sold to date, went for a staggering $91.8 Million Dollars! Can you BELIEVE it?
It could happen to YOU!
It's Exciting Knowing You Have A
"1-in-3" Chance Of Winning A
Cash Prize!
Lotteries can't compete, they don't come anywhere near our odds! Once you purchase your raffle entry and download our App, you can earn unlimited additional FREE ENTRIES by supporting our Sponsors. Plus help us promote the raffle by posting to Facebook, Twitter, Instagram and LinkedIn from within the App and for every post we give you more FREE RAFFLE ENTRIES! Check your App daily for more options to earn additional free entries because the more TOTAL ENTRIES you have, the better your probability of winning a BIGGER Cash Prize!
STOP! Just When You Thought It Couldn't Get Any Better, IT DOES!
Players Get HUGE Perks!
Avazoo appreciates every single player and when you purchase a raffle entry, YOUR Referral Code is embedded in the Avazoo Mobile App Banners that you can share across social media! That means that others can purchase a raffle entry through your link and if they win the Billion Dollar 1st Place Grand Prize, you receive $250,000, and if they are one of the 100 players to win the Million Dollar 2nd Place Prizes, you will receive $50,000 for EACH one! PLUS every player that uses your Referral Code earns you 15 ADDITIONAL FREE ENTRIES!
No lottery or any other raffle in the world does that!
Don't Miss Out!
Embark With Us On A Once In A Lifetime Journey To Accomplish Avazoo's Mission Of Helping To Make Our World A Much Better Place!
Here are some MIND-BLOWING FACTS that demonstrate the magnitude
of what Avazoo is all about!
After the completion of Avazoo's FIRST Billion Dollar Raffle there will be:
OVER 16 Million Cash Prize Winners
OVER $3 Billion Dollars Dispersed Around the World for Philanthropic Causes!
After the completion of Avazoo's 12th D-Day Raffle
there will be:
OVER 192 Million Cash Prize Winners
OVER $36 Billion Dollars Dispersed Around the World for Philanthropic Causes!
*The number of Millionaires and Billionaires will fluctuate if Syndicate and/or Corporate Entries win any of the top two prizes due to those being shared group entries.
IT'S SO SIMPLE… you purchase a raffle entry which helps raise over US$3 Billion Dollars for Charitable Causes worldwide, while having a "1-in-3" chance of Winning One of the LARGEST Single Cash Prizes in History!
Now Is The Time For You To Take Action!
What Are You Waiting For?
Sign up now and purchase your NFT or Raffle Ticket Entry using My Referral Code and let's start making a
REAL difference in people's lives!
You can be proud to be part of Avazoo because you are helping change history, with the World's First Worldwide
Billion Dollar Raffle for Charitable Causes!
Dream Big, YOU Could Be The World's Next Instant BILLIONAIRE!